Product description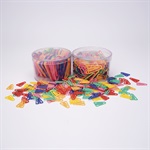 Plastic Paper Clips in a rainbow of colours from £2.25 per box of 500.
Plastic grips thick or thin papers more effectively than metal clips.
No metal fatigue.
Various sizes cope with different paper thicknesses.
Assorted colours help with tabbing and coding papers for easy reference.
Environmentally friendly material doesn't rust.
Designed not to tangle unlike metal paper clips.