Product description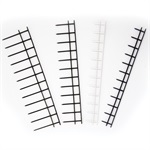 Velobind strips in 25mm, 51mm and 75mm capacities backed by our Price Beat Guarantee.
Ideal for documents which need to be bound securely such as legal agreements and company accounts.
Velobind strips feature 12 prongs and come in 25 mm, 51 mm and 75mm capacities.
Available in black, white and navy blue.